Download
Installation of edaBase
To download edaBase to your computer, simply click the download link above and save the installation file to your computer. Afterwards create the working directory c:\edaBase on your workstation. Once the file has been downloaded, please open and extract the contents of the Zip-archive to the working directory. Double-click the edabase program file - fill in the registration form and if needed request a trail license before using the application. Finally use the import functionality to read a designs from your own environment.
---
Registration and Trail License
An online registration of the program is required. Simply fill in the registration form from within edaBase before using the program. During registration you can request a 30-day trial license to evaluate edaBase product. A trail license is a full license that enables you to import PCB designs from your own environment. Trail licenses requires an online internet connection when executing the application.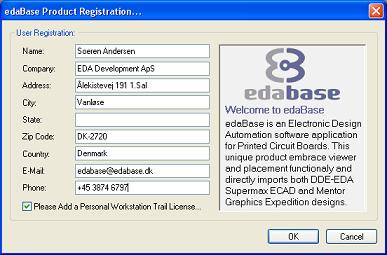 ---
Website:
www.edabase.com
Copyright © 2012 edaBase by Soeren Andersen
Webmaster:
edabase@edabase.com